Water Leak Detection in Woodstock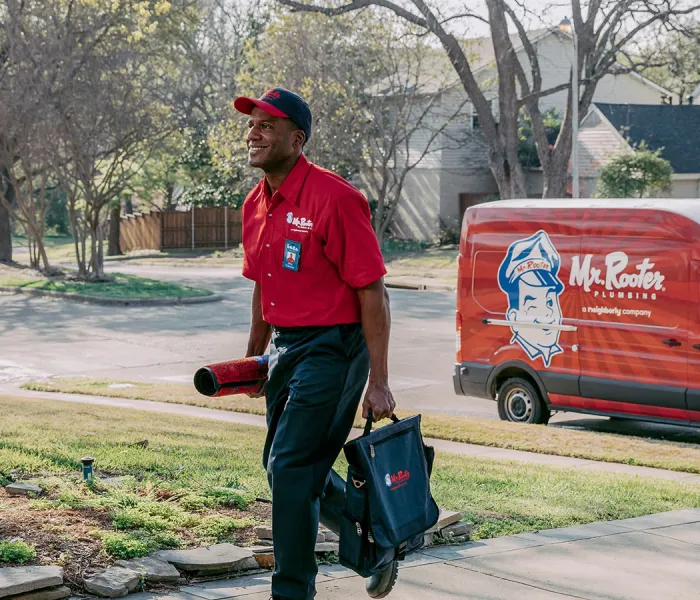 Leak Detection in Woodstock
Mr. Rooter Plumbing offers fast reliable leak detection and repair in Woodstock and surrounding areas. We know you spend a lot of money maintaining your house and our mission is to save you money when it comes to finding water leaks in your home.
Even if you aren't dealing with the common signs of water leaks, it's important to be preventative. Our team would rather spend an hour looking over your home for leaks than have to provide extensive water leak repair because you waited to give us a call.
Schedule Your Woodstock Plumbing Repair Now!
Tips for Determining What Kind of Water Leak You Have

Since you aren't a professional plumber and you may not know what to look for, the Mr. Rooter Plumbing team created an easy-to-follow guide on how to determine what kind of leak you are dealing with in your home. If you notice any of these things in your home, give us a call immediately.

If it is a slab leak you are dealing with, you may notice cracks in the foundation of your home. We recommend performing your own inspection at least every 6 months to see if any new cracks have formed. Another sign of a slab leak is mold growing on your basement walls. If you notice either of these things, you are dealing with a slab leak.
If it's a kitchen sink leak you are dealing with, the signs are pretty easy. Either your kitchen sink will have little to no water pressure, water may come out of the base of your faucet, or you will notice signs of water damage in the cabinet under your kitchen sink.
Now, a basement leak can be tricky. Similar to a slab leak, a basement leak can show signs of mold growth on your walls, but you may also notice standing water in your basement. There are probably some plumbing appliances in your basement that may cause a basement leak.
Lastly, a toilet leak. This is also pretty obvious, but you will notice difficulty flushing your toilet or pooling water around the base of your toilet.