Customer Reviews
See what your neighbors are saying about Mr. Rooter.
Hear From Our Customers
Annette Clark, Brookhaven Storage
Linda LaManna, Member of Board of Directors of Condominium
Irwin Weitz, Homeowner and Business Owner
Nicole Williamson, Homeowner
Annette Clark, Brookhaven Storage
Linda LaManna, Member of Board of Directors of Condominium
Irwin Weitz, Homeowner and Business Owner
Nicole Williamson, Homeowner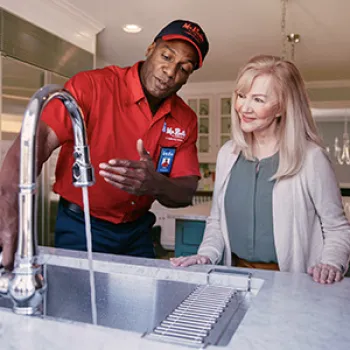 I was experiencing plumbing issues and was unsure of where to start or who to call. Brand new home of three(3) years and was now experiencing what appeared to be a bursted pipe/leak. I googled and came across Mr Rooter, amongst other listings, but only felt comfortable contacting this company. Thank God I did. I pray about everything!! I said, "God, let them send me the right person, for me, for our home. Let me explain that the representative, Joshua Vlahos, that they sent me was the epitome of great customer service!! He was courteous, great manners and informative on everything he was doing. I can't rave enough about this young man. He eased my fears and offered alternative solutions. He was effective and efficient. Mr Rooter should definitely, be appreciative of reps like Joshua. It's ppl like him that grow, motivate and maintain the integrity of your business that I know you hope to always maintain. I can't thank you enough.
Deirdre Creamer
Customer Reviews
Wonderful experience. Able to get a fast appointment (same afternoon) for broken sump pump. Technician was well prepared and knowledgeable. Not able to replace immediately (it was Sunday) but was on his way to finish by 7 am on Monday. Work completed in a couple of hours. Area cleaned up. Explained everything and took pictures. Very professional service. Thank you.
Vicki Mehnert
David was awesome! He was very helpful and helped me with my issue. I really appreciated how he asked me questions regarding my issue and then walked me through step by step with my installation. I also would like to say thank you for the quick response. I called 4 other plumbers with message and no response. I will definitely keep you guys in my phone if I ever have any issues in the future.
Matthew Bondar
Jim from Mr. Rooter is honest and dependable. I completely trust his advice. We've used Mr. Rooter for a few years now. We bought our tankless water heater from them, a big investment, and we couldn't be happier. The Nelson family happily recommends Mr. Rooter. You'll be in good hands.
Mikey Nelson
I highly recommend Mr Rooter Plumbing and our Plumber John Fleury. I had an issue and called the office - they sent John out. They sent me a text and email with John's name and a photo so I would know who to be expecting. He arrived exactly when they said he would, diagnosed the issue, explained everything in detail and walked me through the plan to fix it. We ended up needing a new water heater. He was here early the next morning and took care of everything quickly. When he was done, he walked me through everything that he had done and made sure to answer all my questions. He was professional and respectful. I will definitely use this company for any other issues that I have.
Ann Liles
Mr. Rooter got the job done professionally and with exceptional expertise. David explained everything and now I know what to look for and what do. Barbara gave me direction right before closing with great customer service and saved me from having to ask for an after hours appointment. It's hard to find the combination of good service, promptness, and expertise all rolled into one.
CK Meja
Technician was on time and communicated arrival beforehand. He was very helpful explaining the process and did not take more time than necessary. Was also able to schedule quick repair solution
Carlos Cespedes
I had a great experience. David was very knowledgeable and straight forward with what was going on. He explained everything to me so I could understand. He showed me what was wrong and gave me options on moving forward. I highly recommend David and Mr. Rooter to all.
Jason Hovan
Joshua was phenomenal in recognizing my issues - of which there were plenty - and quickly and professionally fixing them. I also needed water remediation and he promptly put me in touch with the right people. I am so thankful and grateful for the service he provided me. He is also a great guy with a great personality. I definitely recommend Mr. Rooter and Joshua.
Karen Whitaker
David Artman was very helpful, courteous, and professional. He identified where my leak was and effectively took care of my plumbing issue in no time! More importantly, he took the time to educate and explain what our problem was. We are very grateful for the quick and efficient service!
Donna Bey
I'm very satisfied with the work Ken with Mr. Rooter did replacing my water heater. Great service, professional installation. Would recommend this team highly.
Steve Pritchard
I was very happy with the service provided by Mr. Rooter. My plumber was responsive to my needs and made sure everything was in order before leaving. I highly recommend Mr. Rooter to anyone who wants great value and great service all at once.
Andrew Noblett
Called Saturday morning. Plumber came out, gave me a quote and we agreed on price. They replaced the water heater (32 year old water heater) with a tankless. Very satisfied. Got it done same day.
Reaves Newsom
David Artman and Mr. Rooter were fantastic. David is an honest and trustworthy tradesman, who was professional and explained everything that was going on. We recently moved into a new home and discovered that there was a pre-existing drainage line break. David was there that afternoon to help remedy the issue, and made the full repair within two days. I would absolutely recommend Mr. Rooter and David to anyone who needs plumbing service.
Taylor Pool
Mr. Mahoney was skilled, honest, caring, clearly explained my issue and how he would resolve my problem. He was not condescending. He was quick and I appreciated his knowledge. He's been doing this work for 34 years!! I would recommend Mr. Rooter to anyone. I have another project coming up and I'll be calling them again. Good job!! Thank You!!
Marilyn Teague
Jason and Josh did an excellent job fixing our blocked pipes. They were so quick, kind, and efficient. They did amazing, quality work and they were so nice and professional. It was quite a big project, and They took the time to explain what they would be doing every step of the way We are so happy to have working plumbing in our home again and would highly recommend them to anyone!
Elizabeth Parks
David was fantastic! He was personable and funny, and he explained the issues clearly. He had the replacement parts and tools needed with him (no trips to HD needed), and he repaired both toilets in less than an hour. He gave some tips for preventing future issues as well. Very happy to have working bathrooms again! A+ experience.
Kiera Robbins
I was fortunate to have the team of John F and Steve G to diagnose and repair a leak in my external water line. Both were extremely professional and responsive throughout this big project. I also appreciated the communication throughout the project informing me of every step in the process to replace my water line. Great job guys!
David Henry
Ken was terrific. He Answered all my questions Thoroughly and worked above and beyond expectations. Thank you Mr.Rooter for having great people in your company .
Rey Lopez
David was extremely friendly and very kind. As soon as I told him about our commode he knew exactly what to do. He had it fixed in about 15 minutes. I would highly recommend his services to anyone who is in need of a plumber.
Philip Henry
Hear From Our Employees
Andrew Fitch, Service Professional
Example
Jason Johnson, Underground Specialist
Andrew Fitch, Service Professional
Jason Johnson, Underground Specialist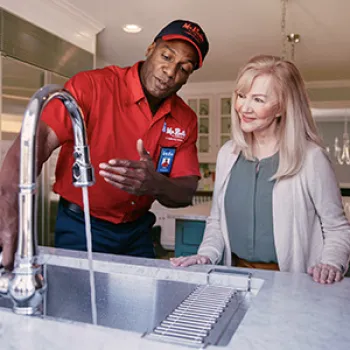 It was definitely Hands-On. Working with Jim, who's very particular, I definitely learned the right way to do things and how things are done and like why things are done as well, which was a big thing. When I go into a customer's home try to find something that they're interested in, that I'm also interested in and kind of make that connection. Sometimes I feel like I make friends! this is my first plumbing job, and uh, so far so good!
Andrew Fitch
Employee Reviews
I've been a technician here at Mr. Rooter for nine months now, but I've been plumbing for 11 years. I come from a family of plumbers. My dad is a plumber and my two older brothers are plumbers as well, so I've pretty much been around it all my life. One of the many things that I noticed was different about Mr. Rooter was the staff. They care about their plumbers. They care about their company and they care to give us the things that we need to go out there and care for our customers. I start of trying to break the ice, getting them to smile, getting them to laugh a little bit about the situation and let them know it's ok to be upset. Mr. Rooter is here now and we're going to take care of the problem for you.
Sean Holmes, Plumber
We have a very personable relationship with our customers and I think that that goes a long way. The first thing that I try to do is try to make them understand that they are not alone, and not the only person that has this issue. Plumbing is very tricky and if it's not handled properly or maintained properly then it can be very problematic. The best thing about this job is being able to provide a fantastic service and help inform customers of the health of their plumbing and tell them what needs to be done to get things to run as they should.
Ricky Relf, Technician
During my time in the Navy, I was on the quality control board for each squadron I was at. With that being in mind, I do three checks before I leave the customer's house. My first check is when I get the system up and running. I usually give about 20-30 minutes and do another check before I put away my tools. My third check is after I put away my tools, clean up my work area and get ready to head out. That is the way I am able to catch any discrepancy I had on myself, and it's worked very well for me.
John Dubose, Technician
sewer lines, anything in the ground. A lot of times these jobs are on the higher end of expense so there's a little bit more requirement as taking care of the customer, making sure that it's done properly, and making sure we don't have to redo that job, so it's a big deal! One big thing as an employee from Mr Rooter, I've noticed, is the amount of time, effort, and money that's been put in the technicians. We do constant training, weekly meetings, and customer service reports so that reflects back to the because Mr. Rooter takes care of us.
Jason Johnson, Underground Specialist
What makes Mr. Rooter different from other plumbing companies is that we really care for the customer. We take the time to wear booties into the home, we set up a work area and clean up the work area so we leave the home as we found it. We take the time to talk to the customers about all options that they have. We like to try and build up a relationship with all customers. We want them to call us back in the future. I like helping people. I like fixing a problem and leaving the customer happy.
Luke Sobis, Plumber